Find a list of helpful links below to get more information about the campground.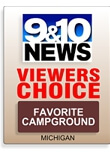 Mackinaw Mill Creek Camping features cabins and sites for all types of campers. From modest supersaver sites (for those on a budget) up to large RV sites (sewer, water & 50 amp electric). From beautiful basic cabins, up to 3-bedroom, 2-story loft cabins with bathrooms. Over 200 acres of woods and a mile of shoreline, viewing the Straits of Mackinac and the Mackinac Bridge. Voted one of Michigan's top family friendly destinations by the Detroit News. A favorite vacation spot for thousands of summer visitors to the Mackinaw area for over 50 years!
---
Campground Rates
Rate information for the current season. Rates vary by unit type and date.
Campground Amenities
Information about the camp's facilities and amenities.
See the Camp
Spectacular views, unmatched by any other northern Michigan campground.
All Types of Sites
Information on each of our many cabin and site types.
About Mackinaw Mill Creek Camping
Information about our family owned and operated campground.
Campground Rules
Information on our park's rules. We're a family campground, after all.
Location of Camp
Information for getting to the campground.
Contact Information
Comments? Suggestions? Feedback? Contact us!