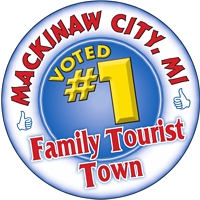 Mackinaw City was voted the top tourist town in Michigan by local parents and families. More than 2,000 parents with children ages 3 to 12 were surveyed for FamilyFun magazine's first travel awards. These parents were asked to select their favorite tourist destinations. The most popular tourist spots were divided into regions (West, Midwest, South and Northeast) and parents voted within their respective local area. The survey focused on rating destinations as fun, accessible and affordable.
Top Tourist Town in Michigan
Parents and families from the Northwest region chose Mackinaw City as their pick for the top tourist town in Michigan. They chose Mackinaw City as their favorite tourist destination for its combination of history and nature. Located on the Straits of Mackinac, between Lakes Huron and Michigan, Mackinaw City is the gateway to Michigan's Upper Peninsula. Visitors come from all around to visit the historic Mackinac Island and to enjoy an array of all types of local attractions. There are plenty of museums, lighthouses, forts and campgrounds for families to enjoy together. Parents also said they come to Mackinaw for the Mackinac Island fudge, some of the best tasting fudge around! So tasty, in fact, we have an annual festival to celebrate the stuff!
Two more cities in Michigan made the top ten list for favorite tourist town, which are Traverse City and Frankenmuth. Of course, these Michigan cities they don't have our tasty Mackinac Island fudge!
Favorite Nature Escapes
Two of the top ten favorite family destinations were from Michigan. Winners for the Northwest region included both the Sleeping Bear Dunes National Lakeshore and the Pictured Rocks National Lakeshore. Sleeping Bear Dunes is located in Glen Arbor, which is near Traverse City. The Pictured Rocks National Lakeshore is located in Grand Marais, in Michigan's Upper Peninsula. Both nature escapes are about a two and a half hour drive from Mackinaw City, in opposite directions.
Favorite Tourist Attractions
Out of the top ten favorite tourist attractions from the Northwest region, FOUR were chosen from right here in Michigan! These include Colonial Michilimackinac in Mackinaw City, The Henry Ford Museum and Greenfield Village in Dearborn, Fort Mackinac on Mackinac Island and the Soo Locks in Sault Ste. Marie.
Take a look at this virtual brochure rack to find even more tourist attractions, nature escapes and things to see and do in the Mackinaw City area.
Original story published by FamilyFun magazine:
Best Family Vacations: 2013 FamilyFun Travel Awards