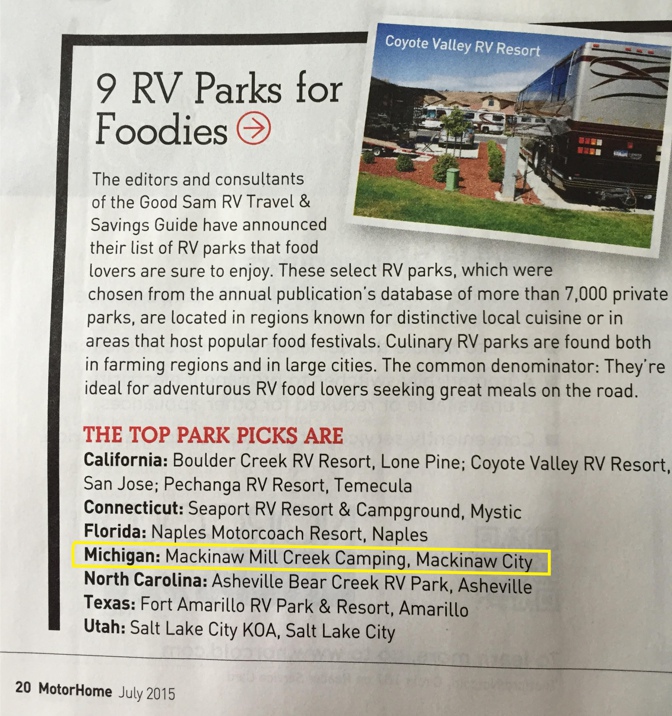 We found ourselves scratching our heads when MotorHome magazine named us one of the top RV parks in the USA for "foodies." Then we realized, "yes, we are!"
A "foodie" is someone with a particular interest in food; a gourmet - so aren't we all "foodies?"
Local Foodies Favorite Restaurants
Here is a list of some of our favorite local places to eat for all you foodies visiting us at Mackinaw Mill Creek Camping. If you haven't tried them, you might just be missing out!
We probably missed some great places, so let us know in the comments if you have another favorite place you love to go!
The Woods, Mackinac Island, MI (Upscale dining, run by the Grand Hotel.)
Walloon Inn, Walloon Lake, MI (Upscale fine dining viewing beautiful Walloon Lake, stunning in the fall.)
Clydes, St. Ignace, MI (Burgers and fries - try the Clydes Burger! It's huge and delicious.)
Your Spirit Bakery, Cafe, Cheboygan, MI (Organic foods, soups made from scratch, only open for breakfast and lunch.)
Hackmatack Inn, Cheboygan, MI (Fine dining in a beautiful historic building on the banks of the Cheboygan River.)
Legg's Inn, Cross Village, MI (Polish foods and beers, with a view of Lake Michigan. Wood working and wood curios that are worth the trip alone.)
Bridgeview Diner, Mackinaw City, MI (Burgers and fries with one of the best burgers you've ever had! The chili fries are great too, one of the area's most highly rated!)
The Pink Pony, Mackinac Island, MI (Fine dining, pretty much everything here is great!)
Horns Gaslight Bar and Restaurant, Mackinac Island, MI (Their kitchen puts out wonderful tasting foods, try most anything!)
The Chuckwagon, Mackinac Island, MI (Burgers and fries - located nearly under the Haunted Theater, another one of the area's most highly rated!)
Mim's, Petoskey, MI (Greek food and yet another one of the areas most highly rated, only open for breakfast and lunch.)