Mackinaw Area Historic Festival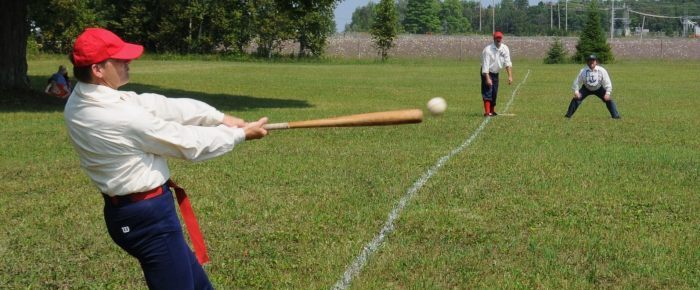 Event Date:
August 1st - August 2nd, 2014
The Mackinaw Area Historic Festival takes place at Heritage Village with Vintage 1880's Baseball, period clothed docents in each of the historic buildings, children's games, Native-American displays and more.
The Historic Festival is on Friday, August 1, from 6:00 p.m. till dark, and Saturday, August 2, from 8:30 am to 4:00 pm.
Heritage Village offers a fun filled family event that celebrates history with historic programs that are free and open to all. Watch a vintage baseball game, ride on a hay wagon, take a trolley ride, play historic children's games, dance around a maypole, square dance, watch quilters and spinners or run in an historic foot race. Chat with quilters and spinners and lumberjacks or be a heckler at the historic ball game.
Travel back to the history and stories from 1880 to 1917 at Heritage Village, just outside Mackinaw City. Visit a period of unparalleled changes in lighting, transportation, communication, housing, health care and nearly every aspect of Straits-area living. Forty three acres of natural beauty includes buildings that bring history alive and tell stories from the lives of our great grandparents and grandparents. Costumed docents in every building tell the stories of the families who lived there and talk about a time before electric lights, airplanes, and television.
Info provided by: www.mackinawhistory.org
|||::
1425 West Central Avenue, Mackinaw City, Michigan 49701
---
Local events are listed as a courtesy; local events are in no way sponsored by us (unless otherwise specified).
Please confirm events before planning to travel.
Please contact us to submit corrections and/or additions to our Mackinaw City area Calendar of Local Events.
Provided by Mackinaw Mill Creek Camping and Mackinac Lakefront Cabin Rentals