4th Annual Whitefish Point – Run For The Light
Event Date:
October 11th, 2014
The Fourth Annual Whitefish Point - Run for the Light. All Proceeds will benefit ongoing restoration of the Whitefish Point Lighthouse. Run For The Light Registration. Or download a GLSHS PDF Registration Form. Fill out the form and mail it back to us.
What: Half Marathon, 10K Run, 5K Run/Walk*
When: Saturday, October 11, 2014
Where: Whitefish Point Shipwreck Museum**
Time: Foghorn Start at 9 a.m.
Registration: Shipwreck Museum or online at Active.com. Race Packets may be picked up Friday, October 10, 2014 from 10 a.m. to 7 p.m. and Saturday, October 11, 2014 from 7-8 a.m.
Fees: $20, $25 September 28 through Race Day 8 a.m., $15 GLSHS Members
* All participants will receive a Whitefish Point Run for the Light Race Souvenir with Race Packet.
** Course: Chip Timing, Flat Paved Roadway. Participants are encouraged to wear Halloween costumes!
For more information about this event, please call the Shipwreck Society office at 906-635-1742.
Info provided by: www.shipwreckmuseum.com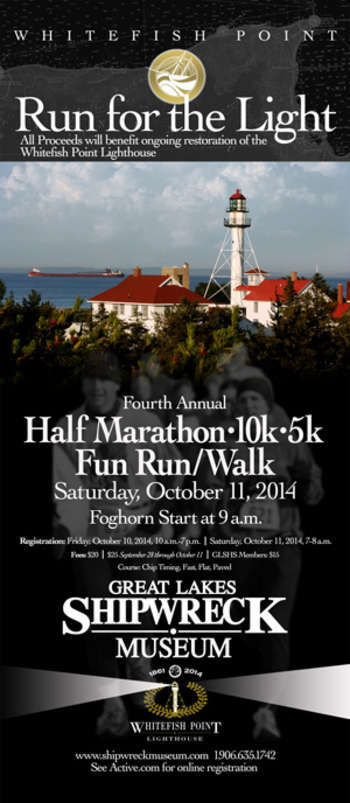 |||::
18335 N. Whitefish Point Road, Paradise, Michigan 49768
---
Local events are listed as a courtesy; local events are in no way sponsored by us (unless otherwise specified).
Please confirm events before planning to travel.
Please contact us to submit corrections and/or additions to our Mackinaw City area Calendar of Local Events.
Provided by Mackinaw Mill Creek Camping and Mackinac Lakefront Cabin Rentals