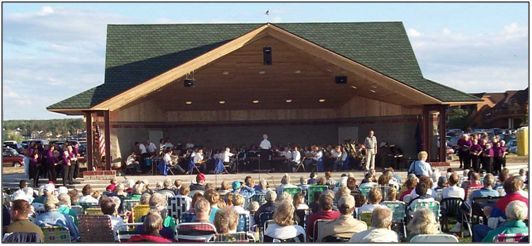 Located just north of the Straits Harbor Conkling Heritage Park is the location of the Performance Shell and events area. This park also offers a handicapped accessible picnic table and an observation deck for viewing over the lake. The park hosts our free concert series each summer and many other community events.
Conkling Heritage Park is a park formed under a cooperative effort between the Michigan Department of Natural Resources Parks and Recreation Division and the Village. Established by a 30-year lease between the State and the Village, Conkling Heritage Park provides the residents and visitors of Mackinaw City with over 500 feet of waterfront access along South Huron Avenue.
Free concerts and a beautiful view of Lake Huron combine to make Conkling Heritage Park a great experience for any traveler to Mackinaw City, Michigan.
The park is named after the founder of Mackinaw City, Edgar Conkling. Throughout the year the park is host to a number of events, most notably the incredible Independence Day Fireworks. Although you can enjoy a great view of the fireworks, there are also a number of free concerts to take part in during the summer.
The Park includes the following facilities:
Carving of Edgar Conkling
Performance Shell
Observation Deck overlooking the State of Michigan marina
Bell tower/ Sound booth
Five (5) park benches
One (1) Historic Pathway Marker
Three (3) trash receptacles
Concrete paved sidewalks
Conkling Heritage Park features paved walkways, some benches, and an observation deck, which can support the recreational needs of those with disabilities. The performance shell itself is entirely compliant with accessibility guidelines.
Info provided by: mackinawcity.org
---
Local events are listed as a courtesy; local events are in no way sponsored by us (unless otherwise specified).
Please confirm events before planning to travel.
Please contact us to submit corrections and/or additions to our Mackinaw City area Calendar of Local Events.
Provided by Mackinaw Mill Creek Camping and Mackinac Lakefront Cabin Rentals