The cost of operating a campground and booking a campsite in Michigan will soar unless an alarming 1,700 percent membership fee increase is reversed on three Mackinaw City campgrounds.
Last November, the Mackinaw Area Visitors Bureau made a sudden, unannounced membership fee increase that pushed the cost of advertising with the Visitors Bureau out of the reach of the Mackinaw KOA, Tee Pee Campground, and Mackinaw Mill Creek Camping, all family owned and operated campgrounds. "My membership fee jumped from around $500 in 2017, to over $10,000 in 2018. The other campground owners and I were stunned!" said Vince Rogala, General Manager and co-owner of Mackinaw Mill Creek Camping.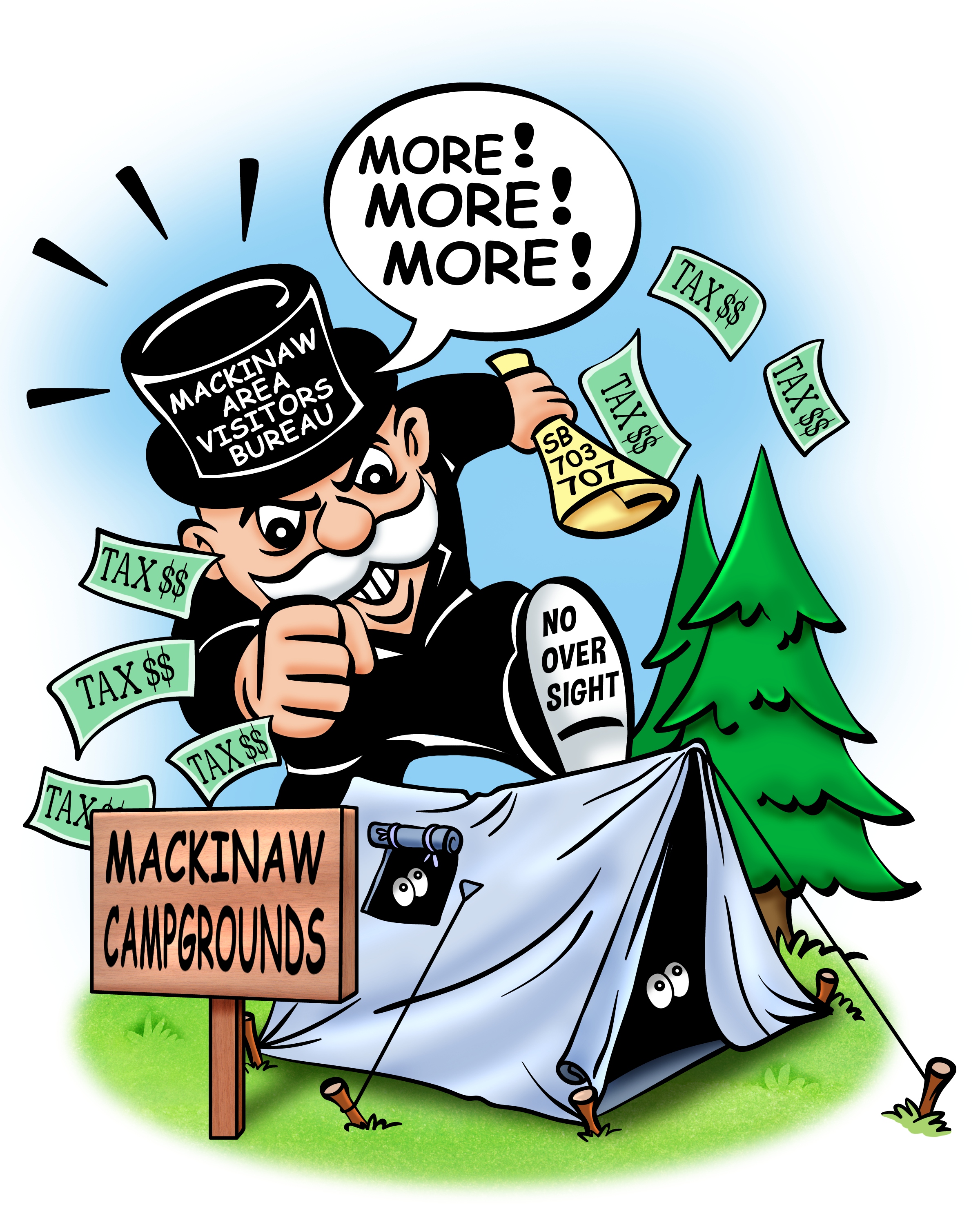 In a written explanation to Rogala from the Mackinaw Area Visitors Bureau's Board of Directors, the Board stated that they "realized no increase had occurred for over 20 years." However, the fee increase solely targets campground owners, as the 2018 rate increase for a gift shop was only $50, a restaurant just $70, and a golf course went up just $30. "How do you justify a $9,910 increase for our campground - in just one year?" asked Rogala.
Don Molosky, attorney for Mackinaw Mill Creek Camping said, "It is clear that this enormous 1,700 percent increase is not part of a uniform adjustment to account for cost-of-living changes." Rogala worries, "It is easy to see how Convention and Visitors Bureaus throughout Michigan could unfairly institute these extreme membership increases, forcing Michigan campground owners to choose the lesser of two evils - either pass on these higher costs to their customers, or refuse to pay and get kicked out of their local visitors bureau." At this time, all three Mackinaw area campgrounds have rejected the 1,700 percent increase and for the first time in decades, camping will not be marketed by the Mackinaw Area Visitors Bureau.
Attorneys for the Mackinaw Area Visitors Bureau in a written response stated, "Perhaps the increase feels sharp because the Visitors Bureau had been sorely undercharging its associate members (campgrounds) for the past several years." "How I am underpaying?" expressed Rogala, "I already pay $20,000 in room taxes, likely more than most of the board members who voted for this shameful price increase."
The Mackinaw Area Visitors Bureau apparently believes it has the right to not only require campgrounds to pay a room tax on their rental cabins, but unlike hotels, also require campgrounds to purchase a marketing membership. "I always thought this "double dipping" was unfair, but in prior years the membership was only $500 so we overlooked it. Now with our fee inflated to over $10,000, plus paying $20,000 in room taxes, it's just unacceptable. Add that up and for $30,000 I can afford to hire my own marketing firm!" stated Rogala.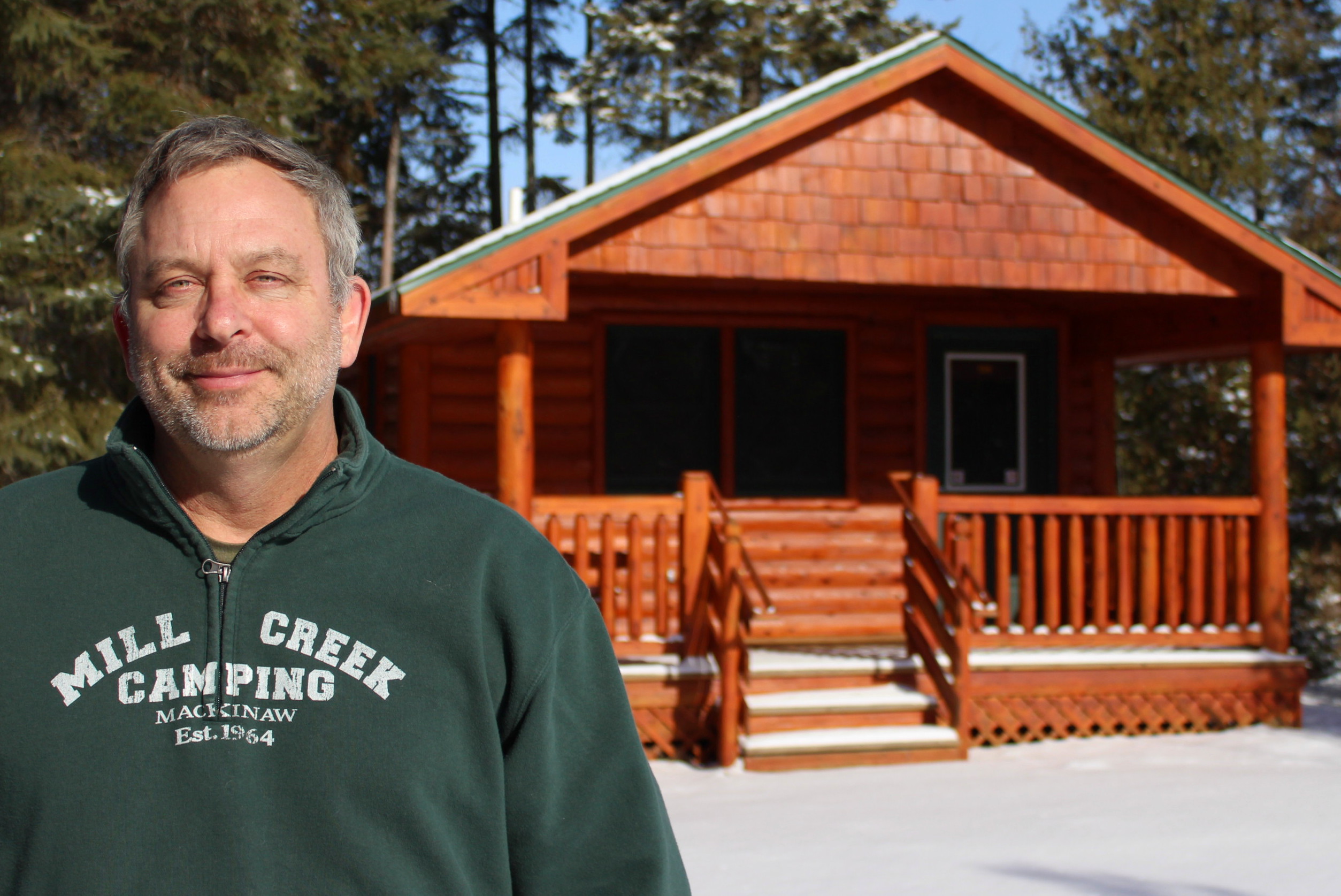 The Community Convention or Tourism Marketing Act has no oversight agency where members can protest the actions of their Visitors Bureau. "There is absolutely no accountability. There needs to be a State oversight agency to provide checks and balances on unprincipled Visitors Bureaus," voiced Rogala. "Currently, I am reaching out to my State Senator, Wayne Schmidt of the 37th District, as he has introduced Senate Bill 703 & 707 that will strengthen the power of Visitors Bureaus."
"I want to make Senator Schmidt aware of the problems his constituents are experiencing. I hope there is a way to fix the flaws, otherwise I think it would be irresponsible to give Convention and Visitors Bureaus more power. This is a First Amendment violation, no one should be forced to pay for advertising they don't want or need, especially to an organization that uses those funds to act in a hostile manner towards the very lodging facility that pays the room assessment," explained Rogala.
Jo Ann Cooley, owner of Tee Pee Campground, located just outside Mackinaw City, noted that, "Campgrounds attract visitors to the area who support restaurants, gift shops, and the historic parks, etc. Many of our camping guests have friends and family who don't have RV's but join them on vacation by staying in hotels. In other words - campgrounds arguably promote tourism in our area, not just for our benefit, but for all the local businesses that advertise with the Mackinaw Area Visitors Bureau."
By law, Visitors Bureaus are exclusively just for lodging owners. Rogala reflects, "I always thought it was odd that area attractions are treated as second-class citizens and not guaranteed a seat on the Bureau's boardrooms. Yet, it's the area attractions that bring in tourism dollars to Northern Michigan. People travel to a destination, 'for an experience,' not for a hotel room. Area attractions should have a seat at the table."
"The creation of a Visitors Bureau as a marketing firm for a tourist district may have been a good idea in the 1980's before the Internet existed. With the advent of Google, Facebook, Expedia, Trip Advisor, and Yelp, the need for such an entity is no longer the same as it was 40 years ago," stated Rogala.
Rogala stated, "It is obvious to any reasonable person that the Convention or Tourism Marketing Act was intended to create a rising tide to - lift all boats in tourism communities - not just to promote a few hotel owners who may dominate a Visitors Bureau boardroom. I hope our Michigan legislators will listen to our concerns, all we are asking is for our Visitors Bureaus to act with integrity."
---
Mackinaw Mill Creek Camping's Response to the TV 9&10 Investigation of Visitors Bureau Fee Increase
---
For additional perspective on how Visitors Bureaus hurt independent businesses, watch the following YouTube video that outlines issues suffered by a Bed and Breakfast at the hands of the Sleeping Bear Dunes.
Taxing My Free Speech (posted by Mackinac Center)
Michigan bed and breakfast David Gersenson has asked the Mackinac Center Legal Foundation to help him fight a tax for advertising he doesn't want or need.
---